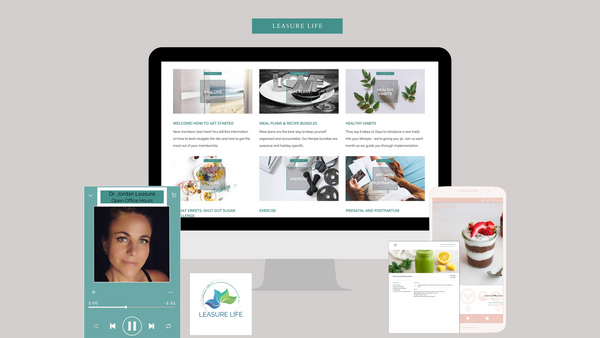 Leasure Life Membership - Subscription
Do you enjoy cooking but have minimal time to plan? Do you LOVE healthy food but designing a menu is last on your list? Is your dream to have a home chef?!? If you answered yes to any of these questions then The Leasure Life is for you!
I've been asked by clients how I make it look so easy - how I juggle my family, my businesses, my friends and still have time for me. Well, it's all about delegation and knowing your strengths. I don't have time to search around the internet, piece recipes together, make a shopping list and plan who's going to cook. I assume you don't either. That's why you're going to join The Leasure Life.
Each month you'll receive access to your digital meal plan, the weeks' menu and shopping list. We've found that a 5 day week works best since oftentimes you're eating out or have other plans a few nights each week. You can hand the shopping list to an assistant, your spouse, your nanny or even a child and have them shop for you! Same with the recipes - my husband has taken over a lot of the cooking because the recipes are easy to follow and taste great!
These meals are easy to make ahead and can all be prepared in less than 30 minutes! The plans are created to feed from 2 to 4; if you're cooking for two simply divide in half. If you're cooking for more multiply accordingly!
Membership will include access to our exclusive private facebook group including healthy habits for the whole family! We'll cover tips and tricks to keep you on track, happy and being the rockstar you are! Learn from other members and contribute your tips and tricks to the wellness tribe.
Can't wait to see the photos of your meals!
This is a monthly program. Auto-renews monthly until cancellation. This is a digital access so there are no refunds once purchased but you can cancel at any time.